I had just bought a new bunch of cilantro and I removed all the stalks and leaves that were loose because I didn't want them to go "bad" at the bottom of the jar. (
This is how I keep my herbs fresh in the fridge
.) So I was left with a bunch that I wanted to use up in
a hurry. I decided to make an alternative to the cheese topping for the variety of plant-based tacos that I eat very often – so I searched the internet looking for a cilantro sauce. This was the first to appear. I found it at The Baking Fairy's website (see below), but here is my recipe. I think next time I will definitely try fresh garlic (1/2 to 1 clove) and fresh onions (1/8 inch slice), yet this recipe is still a good one.
Ingredients:
1 cup soaked cashews
1/4 cup cashew milk (or any unsweetened nut milk, I used almond milk)
1/4 cup or more of cilantro (packed tightly)
1/4 cup of lime juice
1/2 jalapeno (I only had jalapeno juice from my homemade pickled jalapeno peppers)
3/8 – 1/2 tsp garlic powder
3/8 – 1/2 tsp onion powder
3/8 – 1/2 tsp sea salt
a little pepper is also a nice addition
Directions:
Add all ingredients except for the nut milk to a blender and blend.
Add nut milk as needed until you get to your desired consistency.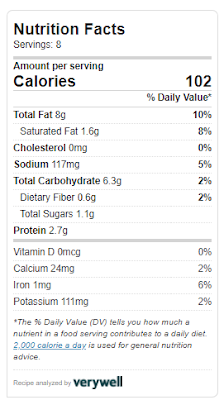 The original recipe for this sauce was found at https://www.thebakingfairy.net/2017/05/sofritas-tacos-cashew-cream/.