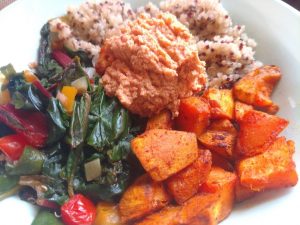 I think I have been creating these all along prior to the term "Buddha Bowl" becoming popular. This is my second "go to" option when trying to determine what to eat next. My first is plant-based Tex-Mex meals. (
I live in Texas y'all!
)
The Buddha Bowl I prepared today uses quinoa as the base! I love quinoa for so many reasons and healthy ones too. It's gluten-free and high in protein (a concern for some when embarking on a plant-based eating plan). I had roasted sweet potatoes using my favorite recipe. I had a bunch of colorful Swiss chard that I needed to prepare and hummus (which I practically keep on hand at all times). So I threw all of these "leftovers" together and created a very satisfying lunch.
Preparation Notes:


| | |
| --- | --- |
| Quinoa | pre-soak 1 – 2 hours for better nutrient absorption |
| Sweet Potatoes | Diced and seasoned with cumin, turmeric, salt, paprika, chili powder, garlic (sprinkled on as you like). Toss with a little coconut oil (barely oil them) and bake 350 – 400 degrees Farenheit |
| Swiss Chard | Saute green onions and bell peppers in water until soft. Add tomatoes and Swiss chard until wilted. Squeeze fresh lemon juice on top |
| Hummus | Seasonings: cumin, lemon juice, tahini, roasted red peppers, salt/pepper and sometimes olives |
Hey, here are some ingredient ideas for a Tex-Mex Budha Bowl!
Mexican "brown" rice
Black or pinto beans
Fresh spinach, kale or romaine lettuces
Roasted corn
Salsa or Pico de gallo
Lemon/Lime Juice
Avocado (or guacamole)
Cilantro
Green onions
Not-so cheese (a Vitamix recipe)