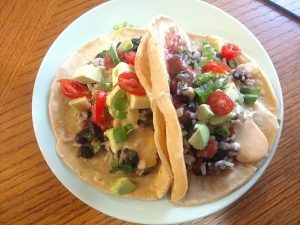 I usually cook a large batch of beans and freeze whatever I don't use immediately. So, for this recipe, the only ingredient that I had to make was the "Not-So" Cheese Sauce that I found in the Vitamix recipe book. If you have the opportunity to purchase a Vitamix you should definitely do so. You won't regret it. I think I've owned mine for about 7 years and the only part I have replaced is the rubber top recently because it wasn't fitting as snugly as it did when I first purchased it (6 years ago).
I pulled these tacos together rather quickly. The corn tortillas are "Tortilla Land" brand that I found in the local grocery store. They are uncooked and I prepare them on the griddle that I keep on the left side of my stove-top mostly for this purpose (and cooking pancakes just as often).
Ingredients:
Tortilla Land corn tortillas (or make your own using masa flour, or chickpea flour or cassava flour) Update: Here is a chickpea flour tortilla recipe. I truly enjoy making my own tortillas these days.
black beans (red beans or pinto beans would also be good, canned is fine – just rinse them)
fresh tomatoes, chopped
green onions
brown rice (or quinoa)
avocado (or guacamole – see recipe below)
Not-So Cheese Sauce (this recipe uses potato starch to create a thicker version) or Forks Over Knives No Cheese Sauce   (a bit simpler, much less cashews). My latest favorite is "Cheeze" Sauce Upgraded (really easy).
Vegan Cheese Sauce Comparisons: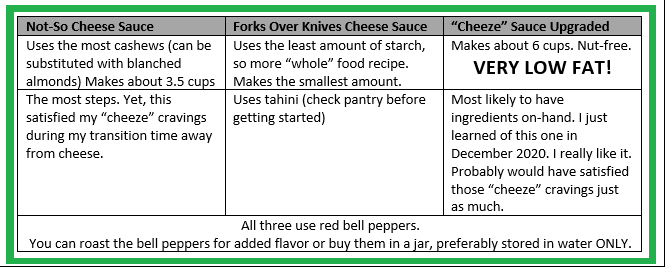 Other possible toppings: salsa, cilantro, pico de gallo, your favorite vegetables, etc
Directions:
Cook tortillas according to package directions
Warm the beans on the stovetop – using a bit of water to prevent them from burning
Add your toppings
Guacamole Recipe
Add all of the following ingredients to a food processor and give it a whirl!
2 avocados
1/2 lemon or lime, juiced
1 green onion stalk (Low FODMAP and I like them because they are milder.)
1/2 – 1 garlic clove
1/2 of jalapeno (I usually remove most of the seeds for a milder version.)
1/4 to 1/2 cup of "tightly packed" cilantro