I have been sharing this cheese sauce for about 6 years now. I always make it when we are having Tex-Mex food or having a pot-luck type dinner with friends. Everyone is always amazed at how great it tastes. Pairs wonderfully with crunchy tortilla chips. I don't miss cheese at all. (Side note: I quit cheese about 8 years ago and haven't had a cold, the flu or even seasonal allergies ever since then. Loving it!)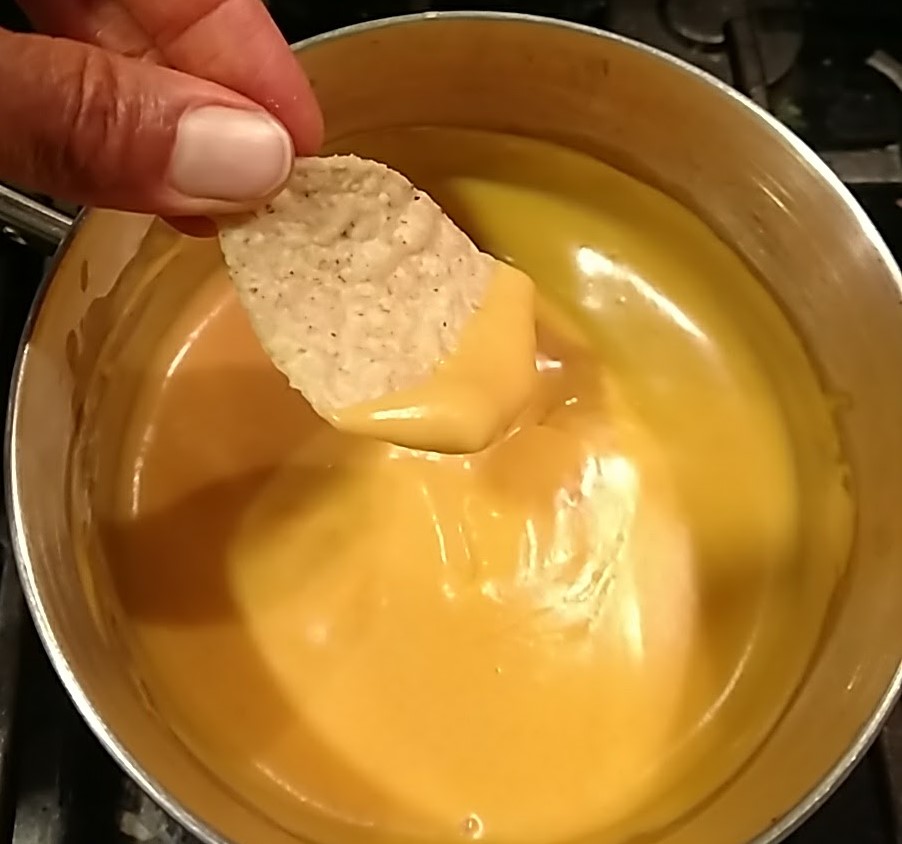 The original recipe (and also, the name I believe) comes from Vitamix, but I've made a few adjustments. I have tried recipes that use steamed potatoes (in place of potato starch) and carrots and even onions, but this one is my favorite. Here is my go-to recipe.
Ingredients:
1 cup water
1 ½ TBS lemon juice
¼ cup pimentos , canned or jar OR use 1 roasted red pepper, peeled (of course, you can roast a red pepper over an open flame or broil in the oven)
½ cup raw cashews (or almonds)
1 tsp onion powder
¼ cup nutritional yeast
1 ½ tsp sea salt
1 ½ cups boiling water
2 TBS potato starch (or tapioca starch) mixed with 1/4 cup cold water
Optional Add-ins: Taco seasoning, salsa, jalapenos, etc.
Notes prior to getting started:
1 – I suggest soaking the cashews and definitely the almonds if you do not think that your blender can thoroughly blend the nuts without leaving crunchy bits in the mixture. I always remove the brown hull/skin when using almonds, or I buy them already removed (blanched almonds).
2 – As an alternative to raw cashews and raw almonds, you could try raw nut nutters. ( I haven't personally tried this option, just a suggestion.
3 – I have been successful with substituting almond flour in place of using almonds and substituting cashew flour in place of cashews – in both instances, I was satisfied with the outcome.
4 – I sometimes substitute green chiles for pimentos. This allows the cheese sauce to appear more creamy white instead of being tinted red by the pimentos.
Vitamix Directions:
Place all the ingredients except for the boiling water and potato starch mixture into the Vitamix.
Set machine to 1, turn on quickly increasing speed to 10, and then to High.
Blend for 3 – 7 minutes until steam forms and you can see it coming from the lid's vent.
Meanwhile, boil water on the stove-top
Reduce speed to 7, remove plastic plug from the lid and add boiling water and potato starch mixture.
Continue to blend until thickened, usually no longer than 1 minute.
Blender Plus Stove-top Directions:
Place all the ingredients except for the boiling water and potato starch mixture into the blender.
Meanwhile, boil water on the stove-top in a saucepan
Once you have a well-blended "cheese" mixture, add it to the saucepan along with the boiling water, bring back to almost boiling temperature.
Reduce the heat under the saucepan and slowly pour in the potato starch mixture while continuing to stir until thickened.
I also invite you to try this "cheeze" sauce which uses oats instead of cashews.