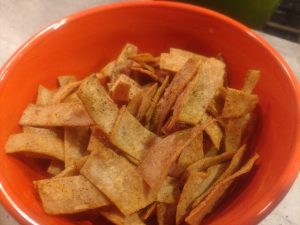 I found this recipe at the Minimalist Baker's blog. It is definitely a good alternative to those brand name chips. (Hey, I hear ya….I was addicted to those chili Fritos too, but….hear me out.) Here is my personal review:
I give these 3.5 out of 5 stars. Knowing that the reason they didn't score higher is likely because this was the first time I tried making these. The seasoning was SPOT ON! (Confirmed by another family member.) Yet, the texture or crunch was not quite right. I intend to try various tortillas to get the desired outcome I'm looking for.
Ingredients:
6

 

yellow

 corn tortillas (I used Trader Joe's corn tortillas)

2-3

 

Tbsp

 olive or avocado oil (I used a blend of these)

1.5

 

tsp

 

sea salt

1.5

 

tsp

 chili powder (I used taco seasoning instead, didn't have any chili powder)

1

 

tsp

 

each cumin, onion powder, garlic powder*

1/2

 

tsp

 nutritional yeast (optional, for a chili-cheese flavor)
Directions:
Preheat oven to 375 degrees. Use convection setting if available.
Add all seasonings to a large bowl and mix/whisk well. Set aside.
Use a pizza cutter or kitchen scissors to cut the tortillas into Frito-sized strips. To accomplish this I cut the tortillas first into three parts using two horizontal cuts. Then I made the vertical cuts which resulted into the perfectly sized strips.
Place corn strips onto a baking sheet. I covered the baking sheet with parchment paper. Add oil and toss the strips around to get them thoroughly coated in oil.
Bake for 12 – 15 minutes until crispy and be careful not to burn during the last couple of baking minutes.
Remove from oven and immediately toss the tortilla strips into the bowl with seasonings.
Something to consider: I think the next time I make these I will toss in the seasonings before baking. I season my sweet potato bites prior to baking and I think these will turn out just fine too. This way, I believe the seasonings will stick to the chips much better (without the need to add any additional oil). I will report back to you on this in the near future.
If you try it, let me know what tortillas you used for this recipe. Happy crunching!