I made the dressing not knowing what I would use for the salad ingredients, but I'm happy that I found this Cucumber Caesar Salad Dressing combination and I wanted to share it with you right away.
I decided to try this dressing because my daughter likes Caesar salad dressings.
And I enjoy cucumbers, especially when I can find really great tasting ones. That usually means a trip to the Farmers Market though. Yet, sometimes I find that the mini packaged cucumbers taste good too. Yet, the best cucumbers I've ever had were those that I grew in my own garden. I wish you the best in finding some good cucumbers for this salad.
Caesar Salad Dressing
Ingredients:
1/4 cup raw cashews
1/8 cup raw pine nuts, or raw sesame seeds (I didn't have either, so I used tahini paste.)
3 TBSP freshly squeezed lemon juice
1 clove garlic
1 tsp miso paste (I used a mellow white. See note* below.)
1/2 tsp sea salt
1/2 tsp kelp granules (I used powdered kelp.)
1 tsp honey, or liquid sweetener of choice
1/4 cup of water (I added more for a thinner version.)
1 TBS extra virgin olive oil, optional (Omit for oil-free version).
Directions:
Mix all the ingredients in a small food processor or in a blender until smooth.
*Note about miso paste: If miso paste is kept in the freezer it will last for at least a year. It never freezes solid, so it's easy to measure out what you need as you need it.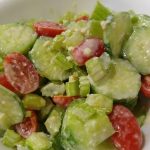 SERVE:  I served over a salad of sliced cucumbers, split cherry tomatoes and chopped celery. I will definitely make this Cucumber Caesar Salad again in the near future (like tomorrow).
It is so YUMMY! It's quick and easy. I hope you will try it soon.
Click for more salad dressing recipes.
Watch Creamy Cumin Ranch Oil-Free Salad Dressing and a Vegan Tex-Mex Salad on YouTube.