I have to admit that I mostly drink tea when I'm looking to warm up on a cold winter's night. So, yes, I mostly drink hot tea. Yet, tea can be enjoyed in a variety of ways and, likewise, there are so many varieties of tea. But most notably, we should be drinking tea for health reasons and its many benefits.
Black tea is what many of us are most familiar with. Some of us drink this tea when out at restaurants and some of us who make it at home using tea bags. In the South, like here in Houston, it's know as sweet tea. Actually, though I've lived here my entire life, I didn't become familiar with the term sweet tea until just a few years back. (In the community I grew up, sweet tea was replaced by Kool-aid, but that's an aside, another topic for another day.)
Then there is green tea. Green tea originated in China. Today many westerners have adopted this tea into their diets specifically for its health benefits. Green tea and black tea are both derived from the same plant, yet black tea is more oxidized. See article links below which explain the benefits of green and black tea and how tea is processed.
But, today we will talk about other types of teas.
Roots, spices and plant teas for health benefits:
Roots, spices and plant leaves can be used to create tea also. Usually this is accomplished by heating/boiling water and allowing the substances to be infused into the water. The longer the infusion time, the stronger the tea. Similarly, a stronger tea can be made by using more of the root, spice or leaves.
On a recent podcast titled, "Immunity Series – Drinking Teas", Patryce (my co-host) shared a few of her favorite teas and how they benefit our immune systems. Here are her findings.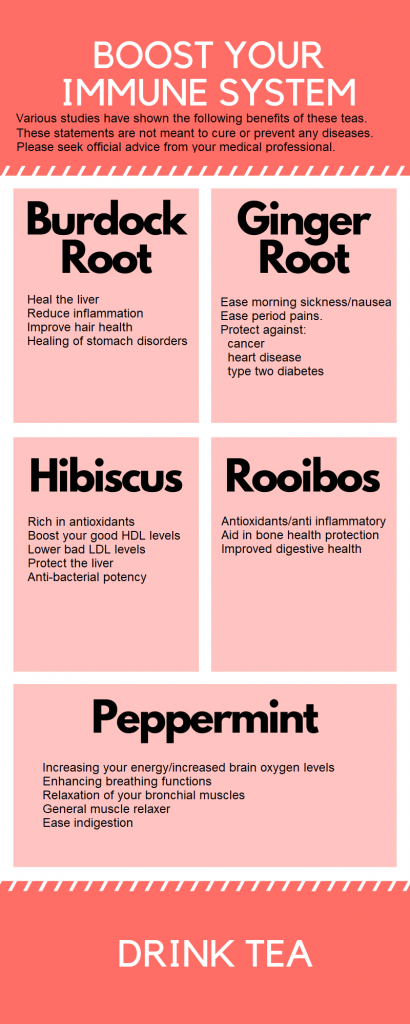 Burdock Root Tea
Heals the liver
Reduces inflammation
Improves hair health
Aids in healing of stomach disorders
Ginger Root Tea
Eases morning sicknesses
Eases period pains
Protects against cancer, heart disease and type-two diabetes
Rooibos (Red Bush)Tea
Rich in antioxidants
Aids in bone health
Improves digestive health
Peppermint Tea
Increases your energy
Increases brain oxygen levels
Enchances breathing functions
Relaxes muscles; even bronchial muscles
Eases indigestion
Hibiscus
Rich in antioxidants
Bosts good HDL levels
Lowers bad LDL levels
Protects the liver
Anti-bacterial properties
Important Note: Only certain hibiscus plants can be used to make hibiscus tea. The flowers of H. sabdariffa and H. acetosella are commonly used when brewing hibiscus tea. (Source)
Tea Plants – More Information
Even though our focus in this article, and during our recent podcast, was on other types of teas other than the common tea plant, I'd like to point out that there are benefits to drinking these teas also.
"Tea, a popular beverage made from leaves of the plant Camellia sinensis, has been shown to reduce body weight, alleviate metabolic syndrome, and prevent diabetes and cardiovascular diseases in animal models and humans. Such beneficial effects have generally been observed in most human studies when the level of tea consumption was 3 to 4 cups (600–900 mg tea catechins) or more per day. Green tea is more effective than black tea." – An abstract from PMC – US National Library of Medicine National Institutes of Health
(More about tea processing at Wikipedia.)
Related Podcast:
Visit the Immunity – Drinking Teas podcast by clicking on this link.