Fermentation Kit – Makes fermentation easy!
Making your own sauerkraut and fermented vegetables is so easy with the items included in this fermentation kit. You can use the sauerkraut recipe provided or any recipe that you want to try. 
Fermented vegetables help with the digestion of food and adds gut-healing bacteria to the digestive system due to the health promoting probiotics created by the fermentation process. The best part is that making your own fermented foods is much less expensive than buying probiotic supplements.
Suggested use: Eat about 1 TBS of fermented foods with one or more meals daily.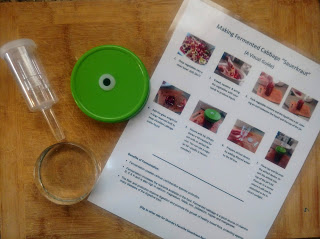 Kit includes: glass weight, airlock device, lid with hole/silicone grommet, plus a two-sided laminated step-by-step visual guide with Shonda's" Favorite Sauerkraut" recipe on opposite side.
$16.99      (S/H included within the contiguous U.S)
Real Food Supplements
Please visit my AIM store to shop for real food supplements. My favorite AIM product is Barley Life (Barley Greens)!